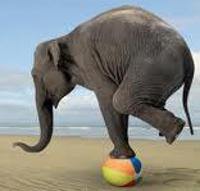 Coordination ability means an ability to quickly and purposefully perform difficult spatio-temporal movement structures. Within this context, coordination abilities are understood as an externally visible manifestation of the control and regulation processes of the motor activity of the central nervous system. The complex of coordination abilities consists of a group of basic coordination abilities.
Basic coordination abilities:
Adaptive ability enables modifications of motor activity ob the basis of comparison or anticipation of new or changing conditions during performing motor activity.
Balance ability is understood as an ability to keep body or its parts in a relatively stable position.
Combinatory ability is understood as an ability to simultaneously put partial movements together into more complex movement structures.
Kinesthetic diferentiation ability means an ability to realize kinematic and dynamic features of movement.