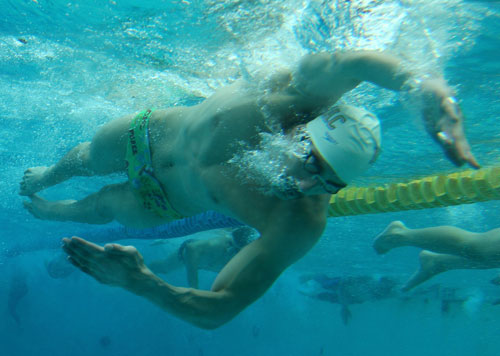 The initial position in freestyle is on the breast, with both arms stretched to the front and the legs extended to the back.
Arm movement
The arm movement in freestyle is alternating, i.e., while one arm is pulling/pushing, the other arm is recovering. The arm strokes also provide most of the forward movement in freestyle. The move can be separated into three parts, the pull, the push, and the recovery.
From the initial position, the arm sinks slightly lower and the palm of the hand turns 45 degree with the thumb side of the palm towards the bottom. This is called catching the water and is in preparation for the pull. It also gives the muscles a brief rest during swimming. The pull movement follows a semicircle with the elbow higher than the hand and the hand pointing towards the body center and downward. The semicircle ends in front of the chest at the beginning of the ribcage.
" frameborder="0" allowfullscreen>