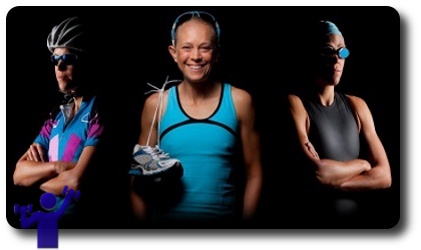 Triathlon has become the most popular multidisciplinary athletic event over the last decade, with competitions performed over a variety of distances, ranging from the triathlon 'sprint' (750m swim, 20k cycle ride, 5k run) to the gruelling Ironman, culminating in a marathon run. Unsurprisingly, therefore, a significant amount of new research is being devoted to investigating the determinants of successful triathlon performance.
Most research to date has focused on the cycle-to-run transition, since significant correlations have been reported between cycling or running time and overall triathlon performance. The influence of swimming on subsequent cycling time has been relatively neglected.
However, a new study from France has demonstrated that swimming in drafting position can significantly improve subsequent cycling efficiency and might therefore be expected to improve triathlon performance in general.
The researchers had shown in a previous study that decreasing the metabolic load during a 750m swim by using a wet suit resulted in a 11% decrease in swimming heart rate and led to a 12% improvement in efficiency during a subsequent 10-minute cycling exercise when compared to swimming without a wet suit. The lower relative intensity when swimming with a wet suit is classically explained by a decrease in 'hydrodynamic drag' resulting from increased buoyancy.